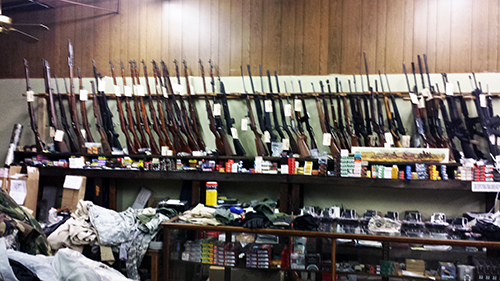 Whether you're interested in sport shooting, self-defense or you're just someone who loves to spend time adventuring in the wilderness, Dead Eye Arms LLC aims to be your complete outfitter. We're more than just a gun or army surplus store in Pearl, MS—we're your destination for firearms, ammunition, optics, survival gear, army surplus supplies and more.
Shop Now!
Guns and Ammo
When it comes to buying a firearm, it's critical to buy from a vendor you can trust. Dead Eye Arms LLC is that vendor, bringing you unparalleled expertise and some of the most trusted name brands in the industry. Our selection of firearms and ammo includes Smith & Wesson, Ruger, Auto-Ordnance, ArmaLite, Armscor, American Spirit Arms, Boberg, Colt, Kel-Tec, Kimber, Montana Firearms, Remington, Rock River, Rossi, Savage, Diamondback and more.
In addition to various firearm calibers and manufacturers, we also have a supply of pellet and BB guns, for gun owners who might want to teach their children the basics of shooting and gun safety at a young age.
Accessories
If you're planning on spending time in the wilderness or are building your supply of emergency equipment, we're the place to search for all of the essentials and accessories. Come to us for any of the following items:
Canteens
Concealed carry purses
Gun accessories
Military and state flags
Military cots
Military tents
Military-style backpack packs
Military-style sleeping bags
Paracord
Ready to eat meals
Small gun safes
Survival gear and accessories
Tactical flashlights
Tactical gear and accessories
Utensils
Army Surplus
Dead Eye Arms LLC is the most complete army surplus store in Pearl, MS! Our inventory contains everything you're looking for in the way of military uniforms, survival gear and apparel:
Camping & Survival Accessories

Blankets
Fire starters
Gloves
New and used backpacks
Small survival kits
Tactical and bulletproof vests
Water purification kits
Military Uniforms

Battle-worn uniforms
New uniforms
Military Style Coats
Optics
From time spent in the brush to target practice at the range, optics make all the difference. Come to us for all of the following optical products:
Binoculars
Lasers
Night vision scopes
Dead Eye Arms LLC welcomes customers from all backgrounds and lifestyles, and we make it a point to earn your trust and your business. No matter if you're buying your first firearm or adding to your ammunition, our team is here to assist you. Stop by our army surplus store today to browse our inventory of military uniforms and guns for yourself or contact us at 601-932-1700 to inquire about anything you might be looking for specifically the next time you're in Pearl, Rankin County, Jackson, or Hinds County, MS.